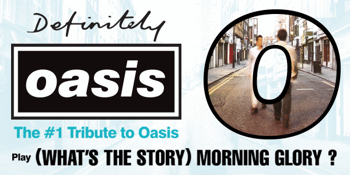 Metropolis Touring presents
Definitely Oasis (UK) (Oasis Tribute)
Sooki Lounge (Belgrave, VIC)
Sunday, 21 August 2022 8:00 pm
Metropolis Touring Presents
Definitely Oasis are the #1 Tribute to Manchester's Favourite Sons, Oasis. They tour down under for the First Time to perform the OASIS classic album (What's the Story) Morning Glory in Full. The album featured Wonderwall, Don't Look Back In Anger, Champagne Supernova, Some Might Say, Morning Glory, Roll With It, Shes Electric. Plus they play an encore of OASIS anthems – Supersonic, Live Forever, Stop Crying Your Heart Out, Shakermaker, Whatever, Cigarettes and Alcohol

Since forming in 2013 Definitely Oasis have performed over 300 headline shows. Definitely Oasis recreate the real Oasis experience playing all the classic songs as if they were their own. Everything the band does is all about making sure that the look and sound are bang on so Oasis fans see and hear what they want

Definitely Oasis performing (What's the Story) Morning Glory plus other Oasis classics is as close to the real thing as you will get.

Facebook Reviews
"Definitely go and see these boys power through the back catalogue of banging tunes
Great front man backed up by excellent musicians"
"Saw majority of the Oasis tribute bands in the country (7 different ones) multiple times this year and these lads really are the real deal. Honestly by far the best in the business by an absolute mile!"
"Absolutely class tribute band! Seen the real Oasis and thought they wouldn't compare but they smashed it! Played a good range of tunes and Liam & Noely G were mint"
"If like me, all you listen to is Oasis, get and see these guys"
"Nice lads, amazing attention to detail and Gallagher looked spot on!"
"Totally smashed it by far the best Oasis tribute band out there"
"brilliant band singing brilliant songs"




This is a Covid Safe event and there are a few things we need you to know before you arrive:
PLEASE DON'T COME if you feel sick, if you've been in contact with a person who has been diagnosed with coronavirus (Covid-19) or if you have travelled overseas or to a coronavirus hotspot in the last 14 days. Contact Oztix - we will refund your ticket.
BRING A MASK — if you are unable to socially distance, it will offer you protection.
A strict NO QR CODE, NO ENTRY policy applies at our venue. We use the Service Vic App QR code and you will have to show a Security Guard YOUR GREEN TICK at the door ​to enter the venue.
​Your TICKET WILL BE SCANNED at the Box Office and matched to the detail input at the time of purchasing your ticket. This data will be kept for 28 days to facilitate Track & Trace.
Download the App now for iPhone
Download the App now for Android
5. NO MOSHING and NO CROWD SURFING. Patrons who kick off will be removed from the venue. We're really sorry about that, but we're in a pandemic and we want to STAY OPEN.

Do your best to remain socially distanced and practice good hand hygiene. If you feel sick at the event, please report immediately to the Box Office so we can do a first aid assessment and get you home safely.

​​​​​​​Max Watt's will be operating under the Victorian State Government vaccination mandate. Therefore, as outlined in the Victorian Roadmap, only patrons, staff and artists who are double vaccinated against Covid-19 will be able to enter the venue. This is for the safety of all that attend.

Customers are required to check-in via the Service Victoria App with a valid Vaccination certificate as they enter the venue.

Only Government Approved Exemptions will be accepted.