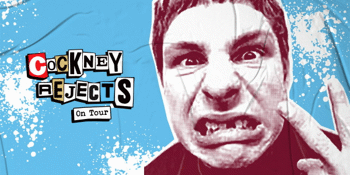 Metropolis Touring presents
Cockney Rejects
with special guests
Max Watt's Melbourne (Melbourne, VIC)
Saturday, 24 September 2022 7:30 pm
English punk rock band formed in the East End of London, the Cockney Rejects are coming back to Australia and NZ bringing with them their authentic brand of Oi!
Formed in 1979 the pioneers of hard edge punk will play highlights from their entire career including "Fighting In The Street", "The Greatest Cockney Ripoff", "I'm Not a Fool", "Bad Man", "War on the Terraces", "Police Car", "Forever Blowing Bubbles" (a tribute to their beloved West Ham United) and their iconic, genre-inspiring "Oi! Oi! Oi!"
The band are known throughout the globe for their in-your-face live shows. Spearheaded by original founders Mick and Jeff Geggus who are notorious for their barks, snarls and call-and-response crowd banter, the Geggus brothers lead audiences through a raw and engaging show. "This band knows how to Punk" is the sentiment of many, with those who have seen them perform tagging them as one of the best punk bands to see live.
The Rejects have always been fiercely working class in stance and attitude and survived the political rumblings of punk's first wave, singing about the circumstances around them: police harassment, street battles and football.
Sweaty, greasy and always the toughest guys in the room, The Rejects hark back to the days of punk before tight jeans, eye make-up and hair straighteners. With the world heading to hell in a handbasket, we need The Rejects, and the hard home truths they shout in our faces, now more than ever.
Max Watt's will be operating under the Victorian State Government vaccination mandate. Therefore, as outlined in the Victorian Roadmap, only patrons, staff and artists who are double vaccinated against Covid-19 will be able to enter the venue.
This is for the safety of all that attend.
Customers are required to check-in via the Service Victoria App with a valid Vaccination certificate as they enter the venue.
Only Government Approved Exemptions will be accepted.