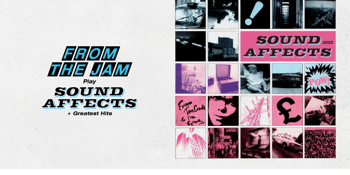 Metropolis Touring presents
FROM THE JAM play THE JAM "SOUND AFFECTS" + Encore of THE JAM's Greatest Hits
with special guests
Corner Hotel (Richmond, VIC)
Thursday, 29 September 2022 8:00 pm
Please note: for the health and safety of all our guests and staff, we will be adhering to the Covid-19 vaccination directions as mandated by the Victorian Government. In line with the Victorian Roadmap, all staff will be vaccinated and all guests will be required to show certification that they are fully vaccinated to gain entry to the venue.

From The Jam, featuring original The Jam bass player Bruce Foxton and guitarist/vocalist Russell Hastings, celebrate The Jam album "Sound Affects" by playing the album in Full. Plus a Special Encore of The Jam's Greatest Hits including Town Called Malice, Eton Rifles, Going Underground, Down in the Tube Station at Midnight, English Rose + More
In November 1980 The Jam released their fifth studio album "Sound Affects". The album reached #2 in the UK Charts and featured two of the band's most-loved singles 'Start!' (the bands second UK #1 single) and the acoustic masterpiece 'That's Entertainment'. As well the album was brimming with other The Jam classics - Pretty Green, Monday, Set the House Ablaze, Boy About Town
From The Jam started in 2007 and continue to be an unstoppable force as they continue to keep the legacy of The Jam and their iconic catalogue of songs alive as they summon the intense drive and passion of the original punk rock mod band.
From the Jam's 2019 Australian Tour Sold Out and the "Sound Affects" Tour is expected to be the same.
"The whole idea of playing an album has brought back so many great memories. We will also, of course, play the hits and more to make what I think will be a great night" (Bruce Foxton)
"There may never be a reunion of The Jam but it's reassuring to see someone as talented and passionate as Bruce Foxton being able to take these wonderful old songs out on the road and communicate so successfully with this Modern World" (Louder Than War)