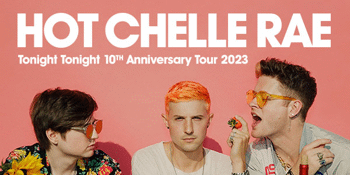 Metropolis Touring Presents
CANCELLED - Hot Chelle Rae
with special guests
The Croxton Bandroom (Thornbury, VIC)
Friday, 31 March 2023 8:00 PM
Beloved pop rock three-piece HOT CHELLE RAE (HCR) finally return down under for the 10th Anniversary Tonight Tonight Celebration Tour in March 2023.
Hot Chelle Rae – lead vocalist and guitarist Ryan Keith Follese, guitarist Nash Overstreet, drummer Jamie Follese – were always a cut above the average boy band, capitalizing on swoon-worthy lyrics for the younger set and uber-catchy dance anthems for people of any age without shame. Their skills as songsmiths are mirrored by their live performance chops, refined through years with HCR having become known for their incredible musicianship and intoxicating energy on stage.
The band really took off in 2011 with their sophomore album 'Whatever' which featured the Triple Platinum ARIA smash hit 'Tonight Tonight' and Double Platinum ARIA follow up 'I Like It Like That'. 'Whatever', the third single from the album, had a video clip featuring footage shot when they were supporting Taylor Swift during her Australian Arena Tour.
Hot Chelle Rae are now back and are returning to what they love and do best which is performing live to thank their fans for their continuing and endless support
"They performed with the same energy as they did the first time I saw them" (Highlight Magazine