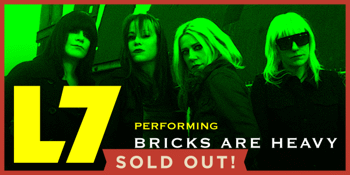 Metropolis Touring & Destroy All Lines present
L7 performing Bricks Are Heavy
Rosemount Hotel (North Perth, WA)
Wednesday, 13 December 2023 7:30 pm
LA-founded hard-rock hellraisers, L7 perform their landmark album 'Bricks are Heavy' in Full (Pretend We're Dead, Shitlist, Wargasm, Everglade, Slide etc). Bricks are Heavy was produced by Nevermind producer Butch Vig and catapulted the band into the mainstream with the timeless 'Pretend We're Dead'
"Hard rock music with a punk sensibility" (Sparks)
This tour down under will see the original line-up of L7 bring their pure shock rock energy and perform Bricks are Heavy for the first time ever in Full! Bricks are heavy – and so are L7
"The moshpit is thrown into a crowd surfing frenzy" (The Music)
"As vital, vicious and pissed off as ever" (Billboard)
"They are not angry chick rockers, but a bunch of rock-hard musicians with foul mouths" (MTV)
VIP Meet & Greet Package Terms & Conditions
By purchasing this ticket, you agree to your contact details being passed on to event organisers to receive VIP information
Please note that all VIP package purchasers will be contacted by Metropolis Touring via email 2 weeks prior to the actual show date with additional details specific to their package schedule and instructions on where to pick up their package inclusions.
Information will be sent to the e-mail address provided at the time of purchase.
If you do not receive an e-mail a week prior to the event please contact info@metropolistouring.com
All VIP programs & times may vary market-by-market and are subject to modification at any time for any reason.