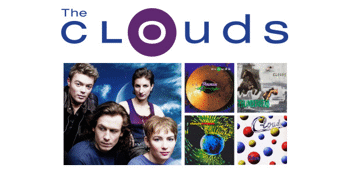 Metropolis Touring Presents
The Clouds - Retroactive Tour
With Special Guests
The Gov - The Venue (Hindmarsh, SA)
Friday, 3 May 2024 7:30 PM
The Clouds are back for their 'Retroactive Tour' showcasing Highlights from their four albums – Penny Century (Hieronymus, Souleater, Anthem), Octopus (Say It), Thunderhead (Red Serenade, Bower of Bliss) and Futura (Here Now).

Few artists embodied the indie spirit that defined the golden era of 90's Australian Indie Music like The Clouds. On the now legendary Red Eye label, The Clouds became Triple J favourites with their dream pop vibes, occasional shoe gaze elements, and just the right amount of guitar crunch, all wrapped up in an exciting and catchy pop sensibility.

The Clouds 'Retroactive Tour' will feature the classic line-up of Jodi Phillis (Guitar/Vocals), Trish Young ..(Bass/Vocals), Dave Easton (Guitar) and Raphael Whittingham (Drums).

*The 'Retroactive' Box Set including all four albums will be released April 2024.