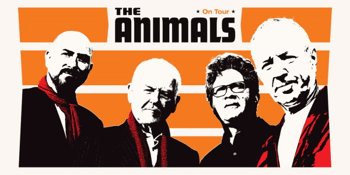 Metropolis Touring presents
The Animals Greatest Hits Tour 2021
Sooki Lounge (Belgrave, VIC)
Friday, 28 October 2022 8:00 pm
Britannia Ruled the airwaves in 1964. In the front ranks, marching in formation behind the Beatles were The Animals who became the second British band to top the American charts after The Beatles. Featuring original members John Steel and Mickey Gallagher alongside Danny Handley and Bobby Ruiz, music fans can expect a fantastic concert of the best of The Animals

The Animals remain a seminal rhythm & blues band who still command great respect internationally amongst their peers as well as from fans of all ages who instinctively respond so enthusiastically to such pivotal songs from The Animals catalogue such as 'We Gotta Get Out Of This Place', 'Boom Boom', 'Don't Let Me Be Misunderstood', 'Baby, Let Me Take You Home', 'I Put A Spell On You' and the bands' multi-million selling anthem and Number One worldwide hit - 'House of The Rising Sun'

After 50 years, the legend still grows... "The band that shook the world back in 1964 have re-invented themselves... quality and distinct sound that was, and still is, The Animals"